ShopReporter Admin Installation EN

Step 1
Buy ShopReporter on the App Store.

Step 2
Download here the Zip-File smios.zip and unzip it with an Unzip-Program (for example 7-zip Freeware): smios.zip
You can see the access-informations/login for the download in your app under: Settings> Info icon top right> Personal Codes
Step 3
Important just for all XTC 4 Users: The folder t24smios contains a file named email_signatur.txt. Please replace the example (Imprint) against your right imprint informations.
Otherwise applies to all:
Please transfer the folder t24smios (incl. Content ) and the files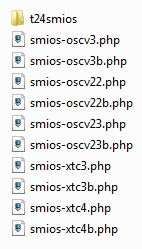 with a FTP-Client (for example: FileZilla Freeware) to your root directory (root folder) of your shop.
Step 4
Start ShopReporter Admin App on your iPhone, iPad or iPod touch and start with Step 1 till Step 3 under settings "Add Shops":
Please choose your Shopsystem and Shopurl in Step 2.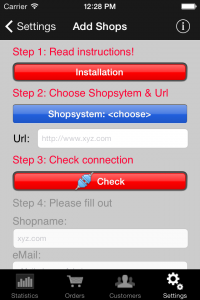 If the check is not successful, then step 3 of the procedure was not performed correctly. Please repeat step 3 of the instructions correctly.
If the check in step 3 in the App was successful, step 4 is no longer grayed out and you can enter the remaining credentials.
Step 5
After that click the button Add.
On successful test the app will automatically close. Please start ShopReporter again and all functions are full available.
Enjoy ShopReporter and have fun with it!
For questions and problems don´t hisitate to contact us. Use our contact form!